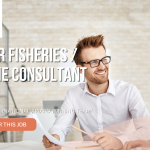 AquaBioTech Group
is a global consulting and engineering company with over 20 years of experience in aquaculture, fisheries and other aquatic sciences.
About the job
Department Manager – Senior Fisheries / Marine Consultant
AquaBioTech Group is seeking a suitably qualified and experienced person to lead the Marine and Fisheries department of the company in a diverse variety of projects.
Synopsis of position offered
A position within AquaBioTech Group has arisen for a suitably qualified person to join the team as a department manager for our Fisheries and Marine consulting team working on a variety of local and international projects. The responsibilities of the successful candidate include but are not limited to:
Lead a small, but dynamic team of staff managing, supervising and providing technical expertise in all fisheries and marine related projects.
Assist the HR department in the recruitment, assessment and retention of Department personnel and interns, provide training, feedback and support for them to carry out efficiently and accurately the fieldwork and analytical tasks required by each project.
Develop and maintain strategic and collaborative relationships with clients and other stakeholders to create new R&D&I projects and capabilities for the Department.
Preparation of ToRs, budgeting and resource planning for consultancy assignment and proposals in relation to the Department.
Prepare technical / scientific reports and publications to disseminate the results of the projects of the Department.
Participate in relevant meetings, conferences, and events to disseminate AquaBioTech Group capabilities, its activities and project results.
Oversee the organisation, coordination and execution of all field work including hydrographic surveys, scientific diving, sampling, and handling of samples and laboratory analysis.
Maintenance of all company's testing sites, including administrative aspects (permits, licenses) and infrastructural matters (physical surveys, repairs, etc.)
Maintenance of the company's vessel, Remotely Operated Vehicle (ROV) including admin and technical and all survey / field equipment, including documentation, annual service requirements and usage logs.
Liaison with clients, and prospective clients for future collaborations, actively participating in business development activities and networking, including upkeeping of LinkedIn profile, marine capability statement.
Leading a small team of professionals, the position requires a person who is highly motivated, methodical and organised. The selected person must be prepared to work long hours when required and keep to tight deadlines in isolated and multi-functional projects in conjunction with a team of international staff based at our head-office based in Malta.
Qualifications Overview
The successful candidate will need to have a good solid academic and practical background in Marine / Fisheries / oceanographic sciences with a minimum M.Sc. in the aforementioned fields, but experience-based candidates are also strongly encouraged to apply.
Applicants should clearly demonstrate having fieldwork experience in marine, fisheries and environmental monitoring projects, such as fisheries stock assessments; sediment sampling and analysis, otolith sampling, processing and aging analysis; water sampling and benthic habitat classification. The successful candidate will also ideally be a qualified and experienced SCUBA diver, holder of a boat driving license.
He/she is also be required to be fluent in spoken and written English and have strong communication and leadership skills that bring confidence and authority to the work being undertaken.
Financial Package
The successful candidate will be offered a long-term, fixed-term contract with the company. The starting package offered for this position will be structured around the chosen candidate, reflecting the experience the candidate brings to the company, but also in line with the cost of living in Malta.
Application Procedure
Further information about the AquaBioTech Group and the services we offer can be viewed at www.aquabt.com. Applicants are required to submit a full Curriculum vitae in the AquaBioTech Group Europass format that must be downloaded from our website (click APPLY button). This file must be filled using Adobe Acrobat Reader® or any other PDF viewer (not directly on your browser)– no other Cv formats will be accepted. Questions about the application should be directed to the Admin & HR Director, on hr@aquabt.com.