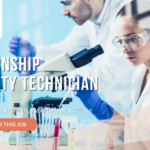 AquaBioTech Group
is a global consulting and engineering company with over 20 years of experience in aquaculture, fisheries and other aquatic sciences.
About the internship
Immediate Internship: Quality Technician Internship
Duration: >3 months (preferably 6-12 months) | Start Date: As soon as possible 
AquaBioTech Group encourages students and post-graduates to undertake training sessions at our company, in order to gain hands-on, valuable experience. This internship will help the chosen candidate to gain experience related to Quality Analysis focused on 'Laboratory Practices' and 'Laboratory Administration' tasks, develop their organisational skills, as well as abilities to evaluate and assess laboratory equipment, but not only. The individual might also expand their knowledge and skills exposure in activities outside of the Quality Technician Internship, with other departments, such as the Fisheries department.
Synopsis of position offered
The responsibilities of the successful candidate will include, but are not limited to:
Mapping of laboratory equipment.
Verification of laboratory equipment such as probes and data loggers.
Assessment of laboratory equipment.
Supplier evaluations as per GLP criteria.
Qualification of equipment.
Calibration or equipment and administration of records.
Required Experience
Good computer literacy.
Flexible and adaptable, exceptional analytical, organisational and time management skills.
Able to concentrate on detailed tasks for long periods of time.
Able to work independently, as well as part of a team.
Previous experience would be considered an asset.
Hours and benefits
This internship is on a full-time basis, usual hours are 08:00 to 17:00, with one hour of lunch break. AquaBioTech Group offers our interns free accommodation in a company apartment for the whole duration of the internship, and whilst internships are un-paid, the knowledge and experience offered is targeted, in-depth and essential for exposure in the aquaculture industry.
Qualifications Overview
A successful candidate is likely to have a good solid background in administration, or management, preferably undergraduate students on their last year or recent graduates. The selected candidate will be required to speak and write English fluently, and knowledge of any other languages would be considered an asset, although not essential.
The selected candidate must have a clear EU/EEA/UK passport with no travel restrictions or legal convictions.
Application Procedure
Further information about the AquaBioTech Group and the services we offer can be viewed at www.aquabt.com. Applicants are required to submit a full Curriculum Vitae in the AquaBioTech Group Europass format that must be downloaded from our website no other CV formats will be accepted. Questions about the application should be directed to the Admin & HR Director, on hr@aquabt.com.

Download Full Job Description