Full Time
This position has been filled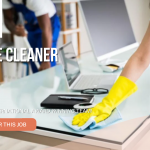 AquaBioTech Group
is a global consulting and engineering company with over 20 years of experience in aquaculture, fisheries and other aquatic sciences.
About the job
Immediate Vacancy: Office Cleaner
AquaBioTech Group is seeking for a full-time office cleaner to take care of its offices in Mosta ensuring all areas are cleaned efficiently and in a timely manner to the required standards.
Synopsis of position offered
The responsibilities of the successful candidate are outlined as follows:
Removing rubbish and recyclable material
Vacuuming, mopping offices and staircases
Dusting and polishing surfaces
Cleaning and disinfecting toilets
Maintaining the kitchen area in a clean and orderly condition
Washing workwear
Qualifications Overview
The successful candidate is likely to have 1 year of proven working experience as a cleaner.
The selected candidate will have to speak English fluently. The selected candidate must have a clear passport with no travel restrictions, no legal convictions held at any time and be in possession of a clean driving licence.
Financial Package
The successful candidate will be offered a long-term, fixed-term contract with the company. The starting package offered for this position will be structured largely upon the chosen candidate, reflecting the experience the candidate brings to the company, but also in line with the cost of living in Malta.