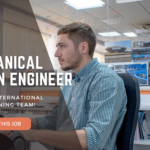 AquaBioTech Group
is a global consulting and engineering company with over 20 years of experience in aquaculture, fisheries and other aquatic sciences.
About the vacancy
Immediate Vacancy: Mechanical Design Engineer
AquaBioTech Group is seeking to employ a graduate Mechanical Design Engineer to work on the design, development, coordination and reporting of various aquaculture international projects that the Company is involved in, as well as the Company's own internal projects. The successful candidate will be working alongside our multi-disciplinary team of international staff.
Synopsis of position offered
The position is described as Mechanical Design Engineer. The responsibilities of the selected candidate will be focused as follows:
To work on the design of a variety of projects within the Group's diverse portfolio dealing with Aquaculture systems, using the latest design software tools.
The candidate will need to help in the preparatipon of detailed plans, engineering calculations, specification lists and Bill of Quantities (BoQ) for these projects in order to devise accurate budgets, financial plans and purchase management schedules.
Supervision of overseas installations and equipment commissioning.
Reporting directly to the Mechanical Engineering manager, the position is demanding requiring a person who is highly motivated and self-organised. The selected person must be prepared to work to very tight deadlines in multi-functional projects and in conjunction with a team of international staff based at our head-office based in Malta, as well as staff who are based at the project sites.
Qualifications Overview
A successful candidate is likely to have a good background in Mechanical Engineering, with at least a first degree level of education and a number of years experience in mechanical engineering systems, design site installation and working with a team of engineers.
Experience / specialisation in water treatment technologies, hydraulics experience, design of pipe systems, employment of large pumps, filtration and high water rates will be considered an asset.
The selected candidate will have a number of assignments to work on, but will also be expected to become involved in team-driven efforts to promote AquaBioTech Group's services. The selected candidate will need to be fluent in the English Language and be an excellent communicator. Knowledge of any other languages would be considered an asset, although not essential.
The selected candidate must have a clean EU / EEA passport with no travel restrictions or legal convictions and be in possession of a clean driving licence. Applicants must be prepared to travel at short notice as part of international assignments the company is awarded.
Financial Package
The successful candidate will be offered a long-term, fixed-term contract with the company.  The starting package offered for this position will depend upon the background of the chosen candidate, reflecting the experience the candidate brings to the company, but also in line with the cost of living in Malta and could include an accommodation package, if required.
Application Procedure
Further information about the AquaBioTech Group and the services we offer can be viewed at www.aquabt.com. Applicants are required to submit a full Curriculum vitae in the AquaBioTech Group Europass format that must be downloaded from our website (click APPLY button). This file must be filled using Adobe Acrobat Reader® or any other PDF viewer (not directly on your browser)– no other Cv formats will be accepted. Questions about the application should be directed to the HR Department, on hr@aquabt.com

Download Full Job Description