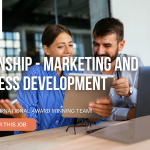 AquaBioTech Group
is a global consulting and engineering company with over 20 years of experience in aquaculture, fisheries and other aquatic sciences.
About the Internship Vacancy
Immediate Internship: Marketing and Business Development
Duration: 6 months
The AquaBioTech Group actively encourages students and post-graduates to undertake training sessions at our company to gain valuable practical, applied, and hands-on experience. The internships we offer will be of a minimum four-month period.
The primary task requires a highly motivated person and prepared to work 42.5 hours per week at the group's Business Development Department with a team of international staff that is based in Malta. The person will be involved in all aspects of the marketing, business development activities, as well as he, will be asked to undertake IT tasks.
More specifically during their internship, the student will be requested to undertake tasks related to:
Business Development
Supporting the Business Development Team in all areas of the department
Assisting on various projects in marketing and data research
Being able to multi-task, prioritize, and follow tight deadlines
Marketing
Prepare a budget.
Create support materials, such as charts, graphs, or other visuals.
Plan and coordinate an event or meeting.
Generate a marketing plan, financial forecast, or other reports.
Produce a video or slide presentation.
Perform a study or survey; analyze and present results.
Write internal communications.
Help screen and train replacement interns before departure.
Accompany employees to the client, sales, or other outside meetings; have them take an observer role
Create a proposal on a potential social media strategy, evaluate various social media platforms.
IT skills would be a plus
Updates on the website through CMS.
Graphic design using Adobe software (such as posters, brochures, and adverts).
The student will report directly to the Business Development Manager. The position is demanding requiring a person who is highly motivated, methodical, and organised.
Years of Experience required: Yes