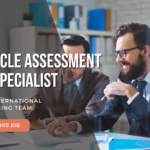 AquaBioTech Group
is a global consulting and engineering company with over 20 years of experience in aquaculture, fisheries and other aquatic sciences.
About the vacancy
Immediate Vacancy: Environmental Consultant / LCA
AquaBioTech Group is seeking a suitably qualified and experienced individual to provide environmental advice, training, Life Cycle Assessments (LCA), and support to a number of business units in Company projects and business ventures. The responsibilities of the selected candidate are client-focused, based on actions that the Company is engaged in, as well as supporting internal departments within the Company's project portfolio.
Synopsis of Position Offered
Forming part of continuous business growth and departmental development, the chosen candidate will be handling a number of tasks associated with projects the Company actively engages in, which form part of a wide range of scopes, aims and goals. The responsibilities of the selected candidate are defined, but not limited to, as follows:
Collaborating across teams to support the delivery of consultancy and training for colleagues.
Assess potential life cycle environmental impacts of technologies, products, buildings, and organisations by applying a range of life cycle assessments (LCA).
Identifying, accurately pricing, and delivering additional consultancy and training services for customers
Ensuring that any information, advice, and guidance is suitable, appropriate, technically correct, relevant, and communicated in a clear way.
Managing and continuously improving an adherence structure to environmental regulations and good environmental management systems.
Carrying out Environmental Impact Assessments (EIAs) and Life Cycle Analysis (LCAs) for proposed new developments pertaining to Company projects and EU funded projects.
Keeping up to date with relevant legislation and ensuring clients meet all requirements.
Doing fieldwork, recording information and analysing results using software modelling packages.
Forming part of an international team of professionals, the position is demanding, requiring a person who is highly motivated and self-organised. The selected person must be prepared to work to very tight deadlines in isolated and multi-functional projects, based at our head-office in Malta, but also with our staff based in other countries.
Qualifications and Experience Overview
A successful candidate will have a minimum of a bachelor's degree in Environmental Sciences or a related subject such as geology, geography, chemistry, biology, ecology or agriculture. Aquaculture knowledge will be considered a strong asset.
The candidate must be able to work under tight deadlines, have a sense of urgency and a commitment to the timely completion of projects, pay attention to details along with a commitment to quality and confidentiality, as well as being able to work within a multicultural team.
The selected candidate will have to speak and write English fluently and must have demonstrated the ability to utilise different types of social media platforms.  Knowledge of any another language will be considered an asset, but not essential. The selected candidate must have a clear EU/EEA/UK passport with no travel restrictions, no legal convictions held at any time and be in possession of a clean driving licence.
Financial Package
The successful candidate will be offered a long-term, fixed-term contract with the company.  The starting package offered for this position will be structured upon the chosen candidate, reflecting the experience the candidate brings to the company, but also in line with the cost of living in Malta and could include an accommodation package, if required.
Application Procedure
Further information about AquaBioTech Group and the services we offer can be viewed at www.aquabt.com.  Applicants are required to submit a full Curriculum vitae in AquaBioTech Europass format that must be downloaded from our website.  This file must be filled using Adobe Acrobat Reader® or any other PDF viewer (not directly on your browser) – no other CV formats will be accepted.  Questions should be directed to the HR Department, on hr@aquabt.com

Download Full Job Description