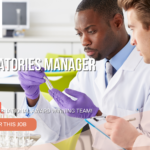 AquaBioTech Group
is a global consulting and engineering company with over 20 years of experience in aquaculture, fisheries and other aquatic sciences.
About the vacancy
Immediate Vacancy: Laboratories Manager
AquaBioTech Group is seeking a qualified person to manage the company's Laboratory facilities. The labs manager will organise and support the day-to-day operations of the laboratories and liaise with study sponsors, to provide scientific advice to sponsors and study personnel. The Lab Manager will take responsibility for all aspects of the lab such as certification and calibrations, instrument/equipment use, maintenance and repair, scheduling and users of the lab and stock / supplies.
Synopsis of position offered
The responsibilities of the selected candidate are described as undertaking the development and management of the company's Laboratories. The responsibilities include, but are not limited to:
Day to day organisation of activities and local management of resources and QC activities within the dry laboratories.
Be responsible for the efficient and smooth running of the dry lab research and development to ensure that all relevant activities are completed and documented in a compliant manner.
Communicates, oversees and enforces laboratory safety rules to internal and external researchers working in the lab making and ensures that the laboratory remains in compliance with all local and international regulations.
Manages and updates Laboratory OHS related procedures and documentation e.g. manuals, MSDSs, Chemical inventories and/or COSHH and inventories and ensures that all reagents and supplies are available when needed and ensures that chemicals are appropriately characterised.
Liaise with the QA Manager & OHS Manager during Laboratory Inspections. Assesses deficiencies and ensures that corrective actions are implemented.
Schedules training for all new laboratory users and retraining for lab users who are in need of refresher training and upkeep training records.
Ensures that the laboratory is cleaned/sanitised and kept in an orderly manner.
Ensures all instrumentations/equipment is functioning properly and that QC related activities are up to date, including but not limited to equipment inventories, IQ, OQ and PQ and calibration.
Form part of the GLP Facility Management team and work with the QA manager and Study directors to implement GLP within the company.
Ensure that appropriate and technically valid Standard Operating Procedures (SOPs) are established and followed, and approve all original and revised SOPs.
Ensure the maintenance of a master schedule and approves study plans and study reports.
Comply with internationally accepted standards of GLP and company internal standard procedures.
Develops capabilities of the laboratories.
This position is demanding, requiring a person who is highly motivated, self-organised, with strong communication and leadership skills. The candidate will need to have experience in working within a GLP environment and interacting with suppliers/clients. The individual must be prepared to work in isolated and in multi-functional projects in conjunction with a team of international staff based at our head-office in Malta, but also with our staff based in other countries.
Qualifications and Experience Overview
A successful candidate is likely to have a solid background in biotechnology with practical experience in one of the following: ecotoxicology, microbiology, or water quality. The individual is expected to have at least a B.Sc. in biotechnology, biology, chemistry, or related scientific field, with preferably a M.Sc. in the aforementioned fields.
The selected candidate will have to speak and write English fluently. Knowledge of any another language will be considered an asset, but not essential. The selected candidate must have a clear EU/EEA/UK passport with no travel restrictions, no legal convictions held at any time and be in possession of a clean driving licence.
Financial Package
The successful candidate will be offered a long-term, fixed-term contract with the company. The starting package offered for this position will be structured upon the chosen candidate, reflecting the experience the candidate brings to the company, but also in line with the cost of living in Malta and could include an accommodation package, if required.
Application Procedure
Further information about AquaBioTech Group and the services we offer can be viewed at www.aquabt.com. Applicants are required to submit a full Curriculum vitae in AquaBioTech Europass format that must be downloaded from our website. This file must be filled using Adobe Acrobat Reader® or any other PDF viewer (not directly on your browser) – no other CV formats will be accepted. Questions should be directed to the HR Department, on hr@aquabt.com

Download Full Job Description