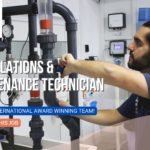 AquaBioTech Group
is a global consulting and engineering company with over 20 years of experience in aquaculture, fisheries and other aquatic sciences.
About the vacancy
Immediate Vacancy: Installations & Maintenance Technician
AquaBioTech Group is seeking to employ an Installations & Maintenance Technician to conduct aquaculture installations and maintenance work at its own facility in Malta, as well as project sites across the globe.
Synopsis of position offered
The successful candidate will be part of the team responsible for the installation and maintenance of the company's licensed aquatic research facilities, including laboratories, stores and offices as well as assist the different departments with a variety of tasks. As and when foreign projects occur, the technician would also be required to travel with the installations and commissioning team to complete projects all over the globe.
Responsibilities include but are not limited to:
Working within the maintenance and installations team, completing daily / routine tasks
Maintenance, repair, and installation of electrical and plumbing equipment
Equipment maintenance, repair and installation, including water pumps, filtration equipment, water heating / cooling equipment, ventilation, water dosing equipment and monitoring systems
Maintenance of Quality Assurance documentation, and an ability to plan preventative maintenance tasks
Contributing to continuous improvement efforts in the installation and maintenance function by reviewing procedures, and implementing sustained process improvements.
Installation and commission work that may be needed at the Company's project sites abroad.
Reporting directly to the Head of Site Installations & Commissioning, the position is demanding, requiring a person who is highly motivated, self-organised, possesses a high level of integrity and discipline with a strong work ethic and able to establish and maintain effective working relationships with the rest of the team.
The selected person must be prepared to work to very tight deadlines in isolated and multi-functional projects and in conjunction with a team of international staff based at our head-office in Malta, as well as staff who are working at our foreign project sites.
Qualifications & Experience Overview
The successful candidate must have a solid background in maintenance, installation work or any other similar position. A track record of experience of successfully working with electrical, mechanical and plumbing equipment is a requirement.
The selected candidate should be ready and willing to go abroad on installation projects for extended period of times with all costs covered by the company.
The selected candidate will have to speak and write English fluently. Knowledge of any other languages would be considered an asset, although not essential. The selected candidate must have a clean EU / UK / EEA passport OR be a third-country national (TCN) presently residing in the EU with no travel restrictions, no legal convictions held at any time and be in possession of a clean driving licence.
Financial Package
The successful candidate will be offered a long-term, fixed-term contract with the company. The starting package offered for this position will be structured largely upon the chosen candidate, reflecting the experience the candidate brings to the company, but also in line with the cost of living in Malta and could include an accommodation package, if required.
Application Procedure
Further information about the AquaBioTech Group and the services we offer can be viewed at www.aquabt.com. Applicants are required to submit a full Curriculum vitae in the AquaBioTech Group Europass format that must be downloaded from our website – no other CV formats will be accepted. Questions about the application should be directed to the HR Department, on hr@aquabt.com

Download Full Job Description