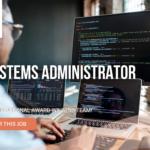 AquaBioTech Group
is a global consulting and engineering company with over 20 years of experience in aquaculture, fisheries and other aquatic sciences.
Immediate Vacancy: ICT System Administrator
A position within the AquaBioTech Group has arisen for a suitably qualified person to work as an ICT System Administrator undertaking a variety of tasks within the Group's ICT department and manage the company's information and communication technology systems.  The successful candidate will be designing, developing, maintaining, installing, and supporting current and new computer systems, ensuring efficiency and safety of all ICT related processes and equipment.
Synopsis of position offered                      
AquaBioTech Group is looking for a candidate who possess improved skills, a proven professional experience and a comprehensive knowledge of the industry's best practice processes.  The responsibilities of the successful candidate may include, but are not limited to:
Oversight of the company's information technology and computer systems
Planning, coordinating, monitoring and assessing of IT and electronic data operations
Designing, developing, implementing, and managing systems, policies and procedures
Ensuring security of data, network access and backup systems, according to the relevant legislations
Ensure efficiency and coordination of cross-department IT functions such as: Corporate Planning, Finance, Human Resources, Audit and Legal
Identify problematic areas and implement strategic solutions in a timely manner
Preserve assets, information security and control structures
Contribute towards the timely preparation and implementation of strategic, operational and budget plans
Troubleshoot and resolve all problems encountered with hardware and software
Information governance, data loss prevention, mail flow supervision, data privacy policies administration and threat management
Designing, managing and maintaining company and project websites
Designing, managing and maintaining Web applications and other on-line tools for automation of company processes
Usage of content management systems and/or PHP frameworks for completing large-scale web applications and tools
Ensuring good search engine ranking by doing Search Engine Optimisation (SEO) checks and implement changes in the code and page content accordingly
Managing Company PABX
Managing Facility Access System and Video surveillance system(s)
Delegate IT issues to the relevant IT service supplier when required
Able to work outside of normal hours and/or weekends during peak times or to meet deadlines
Complete special projects upon requested
Reporting directly to the Chief Financial Officer, the position is very demanding requiring a person who is highly motivated and self-organised.  The selected person must be prepared to work to very tight deadlines in isolated and multi-functional projects and in conjunction with a team of international staff based at our head-office based in Malta.
Qualifications Overview
A successful candidate is likely to have a solid background in ICT Systems with ideally a B.Sc. in Computer Science or related field and have at least three (3) years' experience in ICT systems.  Hands on knowledge of Windows™ servers and Office 365™ administration is a must.
The successful candidate is likely to have wide experience in Windows™ server administration, managing users, distribution/security groups, Internal protocols and policies, web design tools, creating and managing directory structure and access rights, designing computer interfaces for user input as well as working knowledge of web design tools and languages: HTML, CSS, PHP, JavaScript, SQL/MySQL, Adobe Suite, Photoshop, also hands on experience of installing IT hardware and software.  In addition, knowledge of Content management systems and some PHP framework (preferably Laravel) would be a great asset.
Experience in scripting or programming (Bash, PowerShell, VBA, Batch), working and designing GUIs, understanding of web development and a content management system, knowledge of IT operating systems, particularly Windows, Exchange, and Active Directory as well as understanding of three-tier web application architecture and understanding of web application usage in browsers are preferred.
The selected candidate must possess a clean EU/EEA/UK passport OR be a third-country national (TCN) presently residing in the EU with no travel restrictions, no legal convictions held at any time and be in possession of a clean driving licence.
Financial Package
The successful candidate will be offered a long-term, fixed-term contract with the company. The starting package offered for this position will be structured largely upon the chosen candidate, reflecting the experience the candidate brings to the company, but also in line with the cost of living in Malta and could include an accommodation package, if required.
Application Procedure
Further information about the AquaBioTech Group and the services we offer can be viewed at www.aquabt.com. Applicants are required to submit a full Curriculum vitae in the AquaBioTech Group Europass format that must be downloaded from our website (click APPLY button). This file must be filled using Adobe Acrobat Reader® or any other PDF viewer (not directly on your browser)– no other Cv formats will be accepted. Questions about the application should be directed to the Admin & HR Director, on hr@aquabt.com.

Download Full Job Description