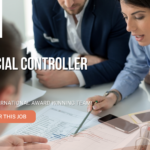 AquaBioTech Group
is a global consulting and engineering company with over 20 years of experience in aquaculture, fisheries and other aquatic sciences.
About the vacancy
Immediate Vacancy: Financial Controller
AquaBioTech Group is looking for an ambitious Financial Controller to contribute and develop all aspects of financial management including corporate accounting, regulatory and financial reporting, budgeting and forecasts preparation, as well as development of internal control policies and procedures. Are you analytical, organised and diligent individual, who wishes to join a fast-paced, dynamic and multicultural environment that values hard work and dedication? Then look no further!
Synopsis of position offered
This position will be reporting to the CFO and entails the overall responsibility for financials and the financial health of AquaBioTech Group. To succeed in this role, you must demonstrate in-depth knowledge of financial policies, procedures, and systems. In addition to being an excellent communicator, our ideal candidate will also have outstanding analytical and time management abilities.
The responsibilities include but are not limited to:
Preparing consolidated management accounts and the presentation of these accounts to the board as required
Producing periodical financial reports
Taking an active role in the preparation of annual consolidated financial statements as well as liaising with the auditors
Planning, preparing and monitoring budgets and cashflow
Refining appropriate systems to ensure all invoices are being issued and recorded as required
Supervising debt collection and reconciliation
Managing and supervising the maintenance of accounting records and receipts for all transactions
Ensuring that all bank deposits and payments are being approved and registered appropriately
Ensuring financial records are kept up to date with the latest transactions and changes
Ensuring that daily, monthly and yearly transactions are being reconciled
Performing periodic financial analyses to detect and resolve problems
Taking an active role in monitoring the group expenditure and procurement policies to drive operational efficiency
Planning and monitoring of training and development of team members
Qualifications & Experience Overview
5+ years of overall combined accounting and/or finance experience
Degree in Accountancy or accounting related qualification
Capable to work on own initiative and flexible hours
Good knowledge of Microsoft Office
Experience in accounting packages is a necessity, and Dynamics NAV would be an advantage
Financial Package
The successful candidate will be offered a long-term, fixed-term contract with the company. The starting package offered for this position will be structured largely upon the chosen candidate, reflecting the experience the candidate brings to the company, but also in line with the cost of living in Malta and could include an accommodation package, if required.
Application Procedure
Further information about the AquaBioTech Group and the services we offer can be viewed at www.aquabt.com. Applicants are required to submit a full Curriculum vitae in the AquaBioTech Group Europass format that must be downloaded from our website – no other CV formats will be accepted. Questions about the application should be directed to the HR Department, on hr@aquabt.com

Download Full Job Description