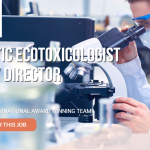 AquaBioTech Group
is a global consulting and engineering company with over 20 years of experience in aquaculture, fisheries and other aquatic sciences.
About the job
Immediate Vacancy: Aquatic Ecotoxicologist – Study Director
Working with a team of biologists, ecologists and engineers, AquaBioTech Group is seeking a highly motivated individual to lead our aquatic ecotoxicology work within the company. We are seeking an experienced study director with knowledge of performing desk studies, designing, and conducting lower and higher-tier laboratory studies with a wide range of freshwater and marine species, as well as develop new assay methods. All studies and reporting of the trial results are undertaken in accordance with the relevant OECD and/or US EPA guidelines, at the company's GLP certified and fully licenced aquatic testing facilities.
Synopsis of the position offered 
This position is only open for EU / EEA / UK passport holders
A position within AquaBioTech Group has arisen for a suitably qualified and experienced person to work on a variety of projects within the Group's diverse portfolio. The successful candidate will lead the design, undertaking and reporting of all freshwater and marine aquatic laboratory studies under GLP standards. This includes the amplification of study plans in collaboration with clients and partners, as well as the companies own internal R&D&I actions.
The position also includes the supervision of all related laboratory work and evaluation the results to develop study reports. The role also requires that the successful candidate takes part in the company's scientific business development and networking with the scientific community, as well as the establishment of new study types.
The responsibilities of the selected candidate may include, but are not limited to:
Carrying out desk studies and regulatory / risk assessments
Development of protocols for different trials in collaboration with clients, as well as for internal research actions
Overseeing trials according to protocols established within the projects and/or OECD and/or US EPA guidelines
Processing and assessment of trial data, including various types of statistical analysis.
Reporting trial development and results in accordance with client requirements and OECD and/or US EPA guidelines
Writing and presenting of scientific articles and presentations and Communicating with partners, presenting work done, travel to client / consortium meetings, conferences, etc.
Carrying out a wide range of aquatic trials on plants, fish and other aquatic organisms and contribute to maintenance of cultures
Identifying and communication with potential clients
Development of GLP and other laboratory procedures and SOP's
Leading project grant application processes from the scientific side in conjunction with the business development team
Reporting to the Head of Aquatic Ecotoxicology, the position is demanding requiring a person who is highly motivated and self-organised. The selected person must be prepared to work to tight deadlines in isolated and multi-functional projects and in conjunction with a team of international staff based at our headquarter laboratory facilities based in Malta.
Qualifications Overview
A successful candidate is likely to have a good solid a background in Ecotoxicology, preferably with at least an M.Sc. level of education, although experience-based candidates are encouraged to apply.
The selected candidate will have a number of assignments to develop and work on in juxtapose but will also be expected to become involved in the overall marketing and promotion of AquaBioTech Group's services so as to ensure that a continuous stream of work comes into the company.
The selected candidate will have to speak and write English fluently and be a clear communicator. Knowledge of any other languages would be considered an asset, although not essential. We also require a clear passport with no travel restrictions or legal convictions and be in possession of a clean driving licence. Applicants must be prepared to travel at short notice as part of international assignments the company is awarded.
Financial Package
The successful candidate will be offered a long-term, fixed-term contract with the company. The starting package offered for this position will depend upon the background of the chosen candidate, reflecting the experience the candidate brings to the company, but also in line with the cost of living in Malta and could include an accommodation package, if required.
Application Procedure
Further information about the AquaBioTech Group and the services we offer can be viewed at www.aquabt.com. Applicants are required to submit a full Curriculum vitae in the AquaBioTech Group Europass format that must be downloaded from our website (click APPLY button). This file must be filled using Adobe Acrobat Reader® or any other PDF viewer (not directly on your browser) – no other CV formats will be accepted. Questions about the application should be directed to the Admin & HR Director, on hr@aquabt.com.