Last week we held a sustainable seafood hackathon for our youngest and most precious audience. A group of children from St Aloysius College, Malta, along with their two teachers, were invited to our research facilities in Mosta, Malta, to learn more about seafood, its production as wild-caught or farmed fish, health and environmental issues, transport and food safety and trust. The event was held under the FishEUTrust Malta Living Lab as an educational outreach activity for the project, in association with the iFishIENCi project consumer outreach activities, Blue Schools Med programme and European Maritime Day In My Country.
Our fisheries and aquaculture expert team, including Dr Adrian Love, Sean Dimech, Justin Galea, Alex Boyle, covered all bases, from why seafood is healthy to how can we farm and catch fish, all while taking into account the potentially harmful effects it can have on the environment.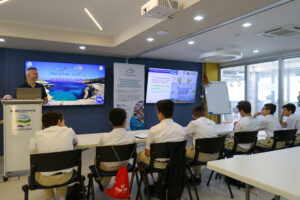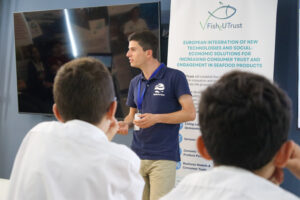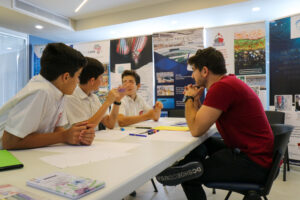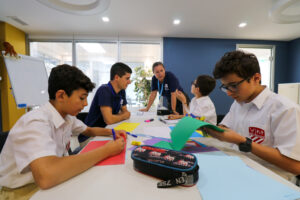 Our enthusiastic participants already had a very good knowledge of seafood through their ongoing Blue Schools Med engagement, and were very active in giving their perspectives, opinions, and in co-creating interesting communication materials to disseminate their knowledge on seafood issues, under the mentorship of AquaBioTech Group's Marketing guru Jolanda Viviers and Malta FishEUTrust Living Lab Leader Stela Karovic.
Most of the students said that they consume seafood and that they like it, including in traditional Maltese and in international and contemporary recipes. Their favourite topics were seafood appearance; the difference of it between farmed and caught fish; why bycatch is harmful to the environment; and how to sustainably catch fish using new fishing gears. They presented their own creative communications on these topics to the expert scientists, and then have taken these back to their school to present to their other student colleagues and spread the word!
After the presentations ended, we tried seaweed chips and snacks, which were surprisingly yummy, and the students were led on a tour of our Innovia research facilities, where they could see our RAS systems and different fish species we grow in them, followed by an award ceremony where they all received ocean related prizes.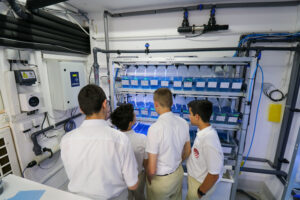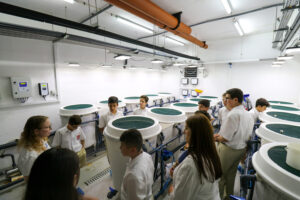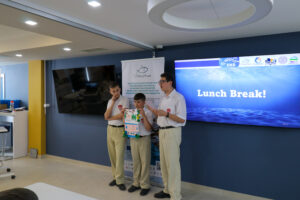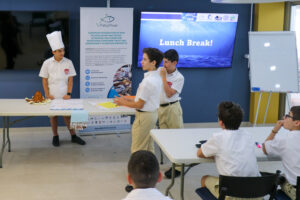 St Aloysius teachers commented that "The students really enjoyed the event as it was very informative, and student centered". We were very happy to host this event and hope to repeat it again as part of the co-creation activities in the FishEUTrust Living Lab Malta!
AquaBioTech Group is the proud leader of the Malta Living Lab of the Horizon Europe FishEUTrust Project, which has received funding from the European Union's Horizon Europe programme under grant agreement no. 101060712. We are grateful to the Blue Schools Med (ERASMUS+ project KA201-92BE234C) team, Prof. Mark Mifsud and Prof. Alan Deidun at the University of Malta, for their support in this event, which was additionally run in cooperation with iFishIENCi (European Union's Horizon 2020 research and innovation programme under grant agreement No 818036) as part of the European Maritime Day In My Country event program.
We would like to thank also the enthusiastic students and teachers at St Aloysius College.
Read more on the article FishEUTrust posted