Last month our RDI Technician Jui-Che Chiang came back from a training on lipid extraction and oxidative status assessment organised by DTU – Technical University of Denmark – one of our partners in the Profius Project.
With their international expertise and years of experience in similar projects, DTU was the perfect institution to provide the qualified information and knowledge required. They provided an intensive 10-day training (22.10.22 – 06.11.22) mainly focused on lipid oxidation status analysis and preservation techniques. This knowledge transfer will benefit Profius project but will also help the industrial side-tuna side-streams processing factory, in Malta, optimizing the quality of both raw materials and final products such as fish oil.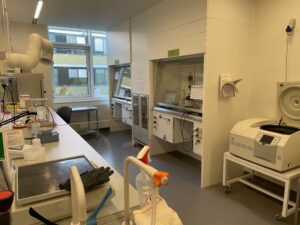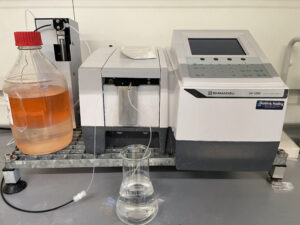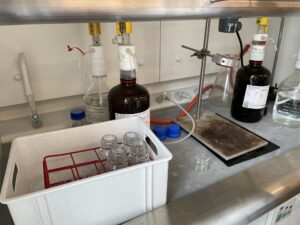 Who is DTU?
The National Food Institute of DTU is one of the partners in Profius project. DTU has many years of experiences and are internationally renowned in the research areas of lipid oxidation and microbial stability of fish biomasses.  DTU is involved in several projects concerning increased utilization of blue biomasses. Their team are heavily involved in the EU project WASEABI concerning utilization of fish side-streams including development of preservation techniques for cod side-streams. There will be substantial synergies between WASEABI and Profius.
What is Profius?
Profius Project (October 2021 – September 2024) is aiming to address challenges in the supply chain related to lumpfish (roe and carcass) and tuna side-streams by developing preservation solutions for maintaining quality and improving utilization of the entire biomass. A major bottleneck for the success of further utilization of the tuna side-streams is their short shelf life. Profius will study the processes responsible for the chemical and microbial deterioration of these side-streams and develop strategies to prevent short shelf life. Furthermore, Profius will investigate the development of fish feed based on tuna side-streams.
In the WP1 Task 1.2 of the project, the samples of different tuna side-streams were collected and will undergo qualitative and quantitative analysis to determine oxidative status. The results obtained will be used in WP2 Task 2.3 to assess the degradation level of the different tuna side-streams components and to further optimised the preservation techniques on either raw materials or processed products such as fish oil.
How is AquaBioTech involved in the project
Our role in this project includes:
Collect tuna side-streams from local farmers in Malta
Analyse composition, oxidative and microbiological status of tuna side-streams
Test the fish feed through feeding trials in Recirculating Aquaculture Systems (RAS)
Investigate market possibilities for side stream ingredients
Coordinate the international communication and dissemination activities
Coordinate the development of a policy recommendation for national and EU level aquaculture regulatory bodies
This collaborative action in Marine Biotechnologies activity was funded by the Malta Council for Science and Technology under the International Partnership Awards Scheme Plus 2021 (IPAS-2021-030), which aims to foster mutually beneficial international relationships between local R&I-performing academic or private entities and foreign counterparts.
Stay tuned more will come soon for Profius!!