AquaBioTech Group has long been a keen participant in the Aquaculture Europe event series, and this year was no different. Our CEO Shane Hunter, Director of R&D and Innovation Tamás Bardócz, Head of Aquatic Research Facilities Design Michele Gallo, and business Development Executive Nicolas Dobereiner were in attendance in Rimini, Italy from 28th to 30th September.
This particular event is always an excellent opportunity to connect with clients, meet new contacts, get in touch with bright, young minds in our industry, and showcase our skills and expertise together with our partners VikingAqua. And this year was no exception, with some 2,500 visitors registered to visit during the three days. Our stand enjoyed a great deal of attention, and there was not a moment where we weren't being asked about our expertise, experience and skills.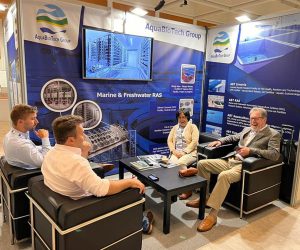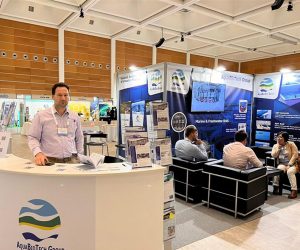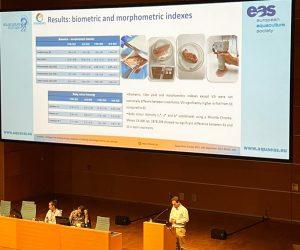 Shane and Tamás were also chosen to present on AquaBioTech Group and its projects, providing us with a perfect platform to showcase our successes and cutting-edge team of developers, engineers, researchers and biologists. Shane provided the audience with an overview of the company, from its founding in 1998 to the present day, and detailed our cooperation with our Norwegian partners VikingAqua.
Our RDI Director, Tamás Bardócz presented on behalf of iFishIENCi, the EU Horizon 2020 project aimed at providing new intelligent feeding technologies to support ambitious, but sustainable growth for the European aquaculture industry. He represented the research team from AquaBioTech, NORCE, LEITAT and Aller Aqua Research GmbH on comparing the growth performances and morphological body quality traits of Asian seabass (Lates calcarifer) at two different salinity levels, testing also a microalgae extract (Microchloropsis gaditana) for potential benefits to fish growth, health, fillet colour and fatty acid content. The trials were carried out in two identical Recirculating Aquaculture Systems (RAS) of ABT Innovia and resulted in a significantly higher FCR and viscerosomatic index (VSI) in 38 ppt seawater than in 14 ppt brackish water. More results of this research will be published soon.
Aquaculture Europe is always a highlight in our calendar, and we are grateful to the organisers for their time and effort in helping us make our attendance so successful. We look forward to connecting with them next year for Aquaculture Europe 2023 in Vienna.