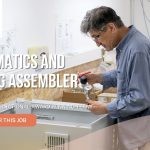 AquaBioTech Group
is a global consulting and engineering company with over 20 years of experience in aquaculture, fisheries and other aquatic sciences.
About the Job
Immediate Vacancy: Pneumatics and Wiring Assembler
AquaBioTech Group is seeking a suitably qualified and experienced person to work on the assembly and testing of pneumatic systems and wiring circuits. The position reports directly to the Head of Automation, Monitoring and Control systems Engineering.
Synopsis of position offered
A position within AquaBioTech Group has arisen for a suitably qualified person to join the team as an assembler of pneumatic systems and wiring circuits. The responsibilities of the successful candidate include but are not limited to:
Identifying the materials required, according to the pneumatic cabinet models ordered; confirm that the required materials are already in stock and liaises with the Procurement & Logistics Department to ensure that such materials are ordered in time according to schedules, as well as ensure that completed units are ready for shipment abroad.
Assembling of industrial pneumatic dosing cabinets according to established procedures, standards and drawings provided.
Wiring the cabinets according to wiring schematics provided.
Undertake pressure, leak and electrical testing of the systems assembled according to set procedures.
Liaises with other team members to undertake quality checks of the assembled work and to issue the necessary certifications.
Planning the work according to schedules as set out by the Project Manager.
Ensuring that the cabinets are assembled in the set time frame.
Contributes to the continuous product development processes of these cabinets and other products.
Regular projects status reporting to senior management.
Other assignments as directed by the Head of Automation, Monitoring and Control systems Engineering and/or Chief Operations Officer (COO) – Engineering.
The position requires a person who is highly motivated and self-organised. The selected person must be prepared to work to very tight deadlines in multi-functional projects and in conjunction with a team of multi-disciplinary and international staff based at our head-office based in Malta.
Qualifications Overview
The position is open to all persons who have the required experience and attitude to get the job done. The successful candidate will need to have a deadline driven and organised, with excellent interpersonal skills, showing a good disposition to work in a dynamic team, with a can-do positive attitude.
Applicants should clearly demonstrate experience in assembly work that involve pneumatic systems and wiring circuits. The successful candidate will also ideally be qualified in a technical subject/s, ideally in mechanical engineering, but with knowledge of electrical wiring principles. Can read drawings and bill of quantities of materials and have general proficiency in Microsoft 365 / Office applications.
The selected candidate will need to be fluent in spoken and written English, a good communicator and capable of keeping good records and documentation of their work.
Financial Package
The successful candidate will be offered a long-term, fixed-term contract with the company. The starting package offered for this position will be structured around the chosen candidate, reflecting the experience the candidate brings to the company, but also in line with the cost of living in Malta.