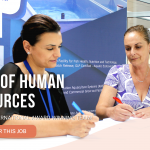 AquaBioTech Group
is a global consulting and engineering company with over 20 years of experience in aquaculture, fisheries and other aquatic sciences.
About the job
Immediate Vacancy: Head of Human Resources
As AquaBioTech Group enters another significant development and expansion phase, we are seeking to bring an experienced Human Resources Manager into the company to attract, manage and develop the most important resource our company has, its staff. The candidate will lead all Human Resource activities in the company and oversee one of the most exciting, but demanding, expansions of the company in the past twenty-five years. With a team of over 100 staff from more than twenty-five countries, we need to continue to attract and retain industry leading personnel from across the globe to work in all areas of our company. The candidate needs to demonstrate that they can lead such a team, be a clear and concise communicator, fluent in written and spoken English, while also able to take the time to listen and understand challenges that employees face.
Synopsis of position offered
The responsibilities of the selected candidate are divided into several different areas of work, although briefly described as leading the daily operations and development of the company's human resources department as well as overseeing the international recruitment process of the company.
The responsibilities include but are not limited to:
Build and manage a small team of HR professionals that have a key role in ensuring the well-being of a large and growing of international professionals.
Manage a growing team of international professionals who come from a range of diverse backgrounds and cultures, ensuring that they work together as a cohesive team
Support the staff with all areas of their personal and professional lives to help them to focus on their work related and personal development goals
Work with department managers to evaluate the performance of the team members, providing constructive feedback and support to each individual, thus enabling both parties to improve
Organise and monitor the regular performance reviews of staff and any related salary changes
Source potential candidates from various channels and help develop our profile and brand online so as to maximise the attractiveness of the company as an employer
Coordinate with department managers to identify staffing requirements well in advance of their immediate need
Oversee the recruitment process, finding ways to improve our offering to prospective candidates.
Organise, streamline, and oversee the onboarding process for new hires
Lead the company in terms of its commitments to the environment by way of education, training and awareness, as well as developing policies and activities that take our initiatives further.
Updating of company day-to-day operational policies and key-performance indicators (KPI's) while maintaining the company culture
Take a leading role in the Occupational, Health and Safety committee of the company and foster a stronger understanding of risk within all sectors of the business.
This position is demanding, requiring a person who is highly motivated, self-organised and resilient, but flexible and able to handle constant change without losing composure, positivity, and drive. The candidate will need to be diligent and firm, with a strong sense of ethics while dealing with sensitive / confidential personal information. The individual must possess a strong sense of self and the ability to make decisions and then take the required action; be prepared to work with a team of international staff based at our head-office in Malta, but also with our staff based in other countries.
Qualifications Overview
The successful candidate is likely to have a solid background in Human Resources, with proven experience in talent acquisition or similar roles with at least a B.Sc. in Human resources, Business administration or another relevant field; and have at least eight (8) to ten (10) years' experience in a similar role, ideally with a company that also has a multi-national staff compliment.
The selected candidate must be fluent in English (spoken and written) and ideally Maltese, but not essential. The selected candidate must have a clear passport with no travel restrictions, no legal convictions held at any time and be in possession of a clean driving licence.
Financial Package
The successful candidate will be offered a long-term, fixed-term contract with the company. The starting package offered for this position will be structured largely upon the chosen candidate, reflecting the experience the candidate brings to the company, but also in line with the cost of living in Malta and could include an accommodation package, if required.
Application Procedure
Further information about the AquaBioTech Group and the services we offer can be viewed at www.aquabt.com. Applicants are required to submit a full Curriculum vitae in the AquaBioTech Group Europass format that must be downloaded from our website (click APPLY button). This file must be filled using Adobe Acrobat Reader® or any other PDF viewer (not directly on your browser)– no other Cv formats will be accepted. Questions about the application should be directed to the Admin & HR Director, on lcd@aquabt.com.

Download Full Job Description