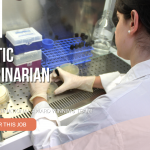 AquaBioTech Group
is a global consulting and engineering company with over 20 years of experience in aquaculture, fisheries and other aquatic sciences.
Immediate Vacancy: Aquatic Veterinarian
AquaBioTech Group is seeking another capable and qualified individual to work as an Aquatic Veterinarian. Charged with managing the health of our research fish stocks, carrying out all necessary necropsies and diagnostics, as well as developing experimental protocols. The candidate would also support and participate in national and international research projects that AquaBioTech Group is involved in.
Synopsis of position offered                      
A position within AquaBioTech Group has arisen for a suitably qualified person to work on a variety of projects within the Group's diverse portfolio as an Aquatic Veterinarian at its licensed aquatic research facility located in Malta. The duties include, but are not limited to:
Sampling for routine health monitoring and trial related requirements
Health management of the fish stock in the facility
Necropsies and diagnostics required by routine health management of the stock and trial related requirements.
Carrying out of vaccination and challenges with pathogens.
Development of Challenge Models and other experimental SOPs
Writing of study protocols and study reports
Coordinate and track assignments, schedules and project budgets.
Other duties as assigned by the company.
Qualifications Overview
The ideal candidate will have a strong balance between academic qualifications and practical experience in microbiology, histopathology and aquaculture. The individual is expected to have a DVM, Doctorate of Veterinarian Medicine. Experience in laboratory operating procedures, GMP for the Batch Release of Aquatic Vaccines and GLP would also be a bonus, but not essential as all training in these procedures will be provided.
The selected candidate will have to speak and write English fluently. Knowledge of any other languages would be considered an asset, although not essential. The selected candidate must have a clear passport with no travel restrictions, no legal convictions held at any time.
Financial Package
The successful candidate will be offered a long-term, fixed-term contract with the company. The starting package offered for this position will be structured largely upon the chosen candidate, reflecting the experience the candidate brings to the company, but also in line with the cost of living in Malta and could include an accommodation package, if required.
Application Procedure
Further information about the AquaBioTech Group and the services we offer can be viewed at www.aquabt.com. Applicants are required to submit a full Curriculum vitae in the AquaBioTech Group Europass format that must be downloaded from our website (click APPLY button). This file must be filled using Adobe Acrobat Reader® or any other PDF viewer (not directly on your browser)– no other CV formats will be accepted. Questions about the application should be directed to the Admin & HR Director, on hr@aquabt.com.

Download Full Job Description