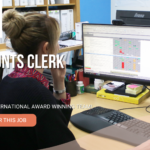 AquaBioTech Group
is a global consulting and engineering company with over 20 years of experience in aquaculture, fisheries and other aquatic sciences.
About the vacancy
Immediate Vacancy: Accounts Clerk
AquaBioTech Group is seeking an Accounts Clerk to join our financial team. Working closely with our Accountants, Project Coordinators and other team members.
AquaBioTech Group implements a diverse portfolio of commercial and research collaborative projects. These projects range from international R&D collaborations (HORIZON Europe, EMFAF, Multilateral Research Grants, etc.) with leading international institutes to commercial assignments for institutional organisations (European Commission, World Bank, European Development Bank, etc.)
Synopsis of position offered
A position within AquaBioTech Group has arisen for a suitably qualified person to work as an Accounts Clerk on a variety of projects. The responsibilities of the successful candidate are outlined as follows:
Reviewing and processing of supplier's invoices in the accounting system
Preparation of payment proposals and electronic payments
Assisting with month end related tasks (reconciliations, journals booking)
Data preparation for tax returns
Resolving supplier inquiries
Resolve invoice discrepancies and issues
Handling daily accounting activities
Keeping financial records organized
Providing accounting support to other departments
Processing and checking of staff expenses
Assistance with month-end closing
The position requires a person who is highly motivated and self-organised, willing to learn, with a sharp eye for details and accuracy and looking to grow accounting experience. The selected person must be prepared to work to very tight deadlines in isolated and multi-functional projects and in conjunction with a team of international staff based at our head-office in Malta.
Qualifications Overview
The successful candidate is likely to have an A-level in Finance, Accounting or a related field. Final year students can also be considered. The ideal candidate will have proven work experience as an Accounts Clerk or similar position, with good excel knowledge.
Excellent oral and written communication skills and also have good inter-personal skills. The selected candidate will be required to speak and write English fluently, and knowledge of any other languages would be considered an asset, although not essential.
The selected candidate must have a clean EU / EEA passport OR be a third-country national (TCN) presently residing in the EU with no travel restrictions or legal convictions and be in possession of a clean driving licence.
Financial Package
The successful candidate will be offered a long-term, fixed-term contract with the company that could easily be extended. The starting package offered for this position will be structured largely upon the chosen candidate, reflecting the experience the candidate brings to the company, but also in line with the cost of living in Malta and could include an accommodation package, if required.
Application Procedure
Further information about the AquaBioTech Group and the services we offer can be viewed at www.aquabt.com. Applicants are required to submit a full Curriculum vitae in the AquaBioTech Group Europass format that must be downloaded from our website (click APPLY button). This file must be filled using Adobe Acrobat Reader® or any other PDF viewer (not directly on your browser)– no other Cv formats will be accepted. Questions about the application should be directed to the HR Department, on hr@aquabt.com

Download Full Job Description